I recently tried to enable hardware VT extensions on my Chromebook using the Hacking VMX Support instructions on the ChromiumOS website and it didn't work. Not only did it not work, I also had a second go at doing it, following the instructions verbatim (despite it leaving 3 "bad" instructions in there). This left me with an expensive paper-weight. This is how I've come to know how to unbrick the 550.
If you are here I'm assuming you are in a similar situation, and, hopefully, have a copy of the original firmware to hand, with which to unbrick. You will also need another laptop with a suitable Linux distro loaded, such as Ubuntu/Fedora, and have Flashrom installed. Onto parts. You will need a Bus Pirate, a Bus Pirate probe cable, and a Pomona 5250 8 pin SOIC clip. Don't buy a 3M SOIC clip, the spring is far too strong, and it's designed in such a way that the pins won't make contact unless you "modify" it, see http://www.eevblog.com/forum/microcontrollers/3m-soic8-clip-waste-of-timemoney/msg33462/?PHPSESSID=e4d9fa7c85d3aee85d389405447973cc#msg33462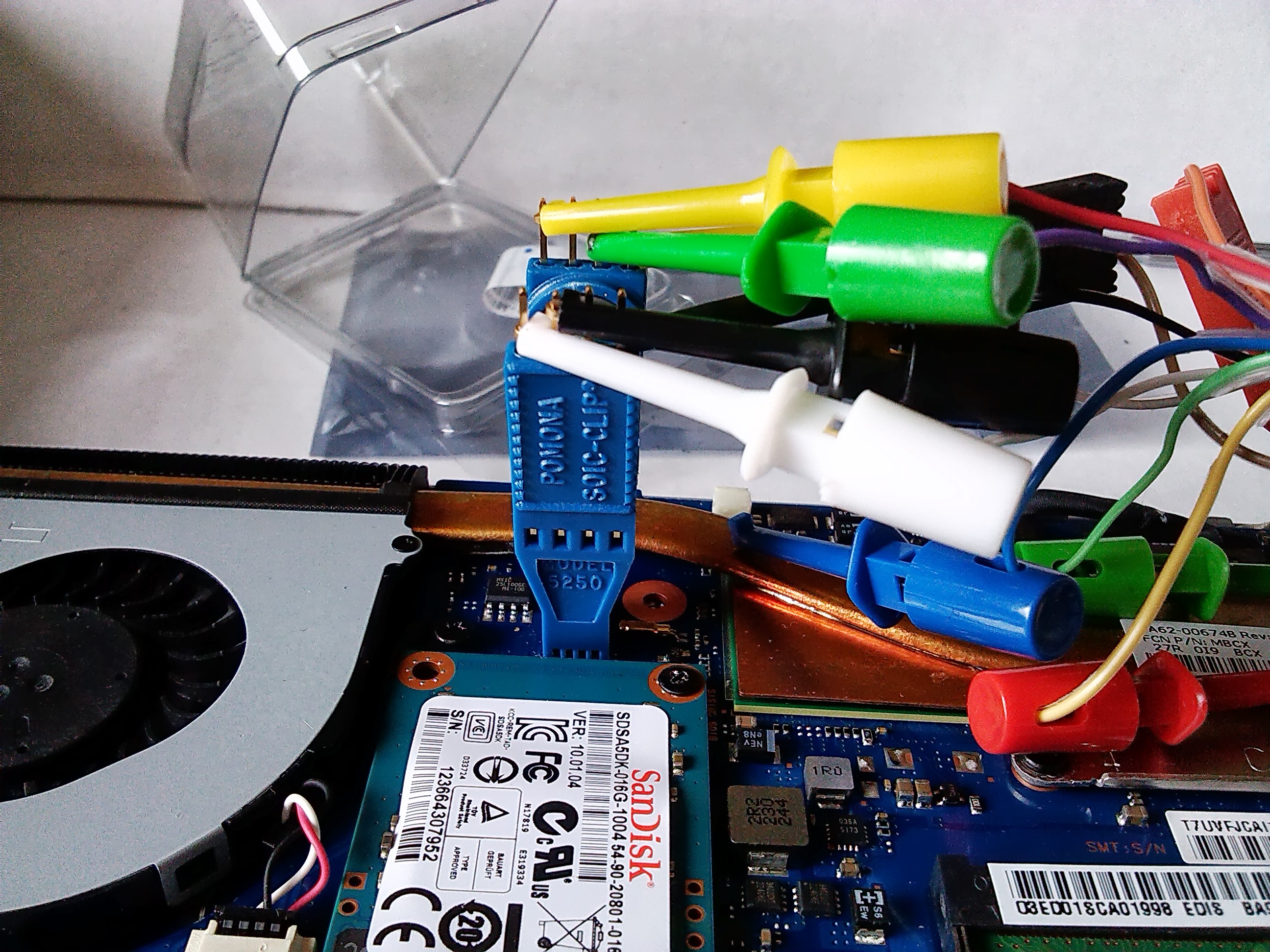 Okay so, if you look at the picture you can get an idea how to connect the clip and what's what. The laptop is shown from front to back, but flipped over. The chip to the left, just behind the chip we're attached to is the EC. Don't program that unless you never want your Chromebook to work again. :D
In our picture here the pins are 1-4 at the front and 5-8 at the back. Before connecting anything it's advisable to push a paper-clip into the hole on the battery, to cut the battery power and make sure the Management Engine isn't sending any bothersome i2c messages which could corrupt our ROM as we write it. On pin 1 goes the white connector and cable. On pin 2 goes the black connector and cable (not the black connector with pincers). On pin 4 goes the black connector with pincers. On pin 5 goes the yellow connector with light grey cable. On pin 6 goes the green connector with lilac/purple cable. And finally, on pin 8 goes the yellow connector with red cable. The last one is the most important not to put in the wrong place as it carries 3.3v.
Now everything is connected you can flash away. Command should be as follows
[bash]flashrom -VVV -p buspirate_spi:dev=/dev/ttyUSB0 -w bios.bin[/bash]
If you add the -n option it will forgo the verification and roughly half the time of the process (it still takes at least 40 mins though). Be patient, and rejoice in your Chromebook's resurrection!