First of all I'm assuming you have your HSDPA modem installed and working. Secondly you really need to have Windows firewall enabled. Thirdly, and by no means least, you should consider why you want to do this and what you are trying to achieve. Internet connection sharing is unstable in Windows XP and often breaks in such a way that you have to disable and re-enable it and even then it may not work. If you a looking for something reliable that will work every time you should consider reinstalled your PC/laptop with Ubuntu or some other Linux distribution and sharing the connection from there.
However that said it is very easy to setup so here we go. Go into Control Panel, click on Windows Firewall and set as in picture below.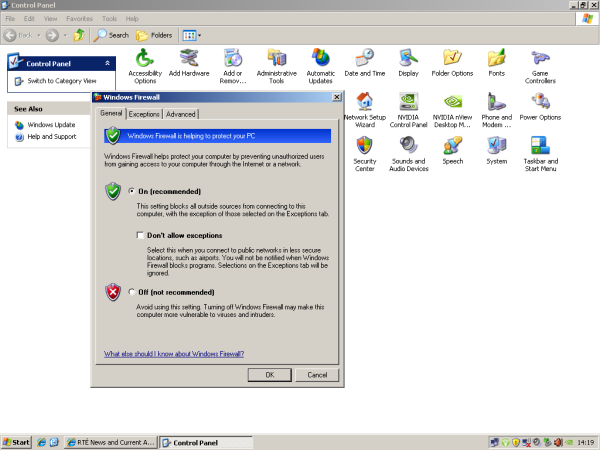 Then, also in Control Panel, click on Network Connections, right-click on your HSDPA connection and choose Properties. Then click Advanced and enable the options as below:-
If you now plug another computer onto the same network as this one, either with a cross-over cable or a switch it should be using the HSDPA connection!

This work, unless otherwise expressly stated, is licensed under a Creative Commons Attribution-NonCommercial 3.0 Unported License.